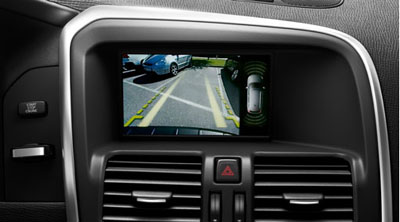 Parking assistance, camera, rear
Increases your field of vision behind the car when parking. A camera mounted in the tailgate now makes it possible for you to have `eyes in the back of your head` when parallel parking. The monitor displays what is behind the car. The camera, which is practically invisible in the tailgate, sends the image digitally to a control module located in the cargo compartment. The monitor displays the car`s bumper and a great deal of the area behind the car. Advanced image processing makes the image as true to life as possible. A mark at the reference lines indicates the car`s approximate distance to objects behind the car. The towbar is visible on the monitor and the system is an aid when reversing toward a trailer. The system is activated when reverse gear is engaged, and is deactivated when the car is driven forward or by disengaging reverse gear.

Click here to view a PDF of the installation instructions.
Application (Software) - Vehicle Chassis number 299272- Part Number 31373814List Price: $32.38 | Your Price $25.90
Add To Cart
Parking assistance, camera, rear installation kit - For cars with any of the following combinations: Keyless and Four-C (active damping), or Keyless and rear seat heating, or Keyless and rear 12 V socket Part Number 31439150List Price: $122.69 | Your Price $98.15
Add To Cart
Parking assistance, camera, rear installation kit - For cars without any of the following combinations: Keyless and Four-C (active damping), or Keyless and rear seat heating, or Keyless and rear 12 V socket Part Number 31470154List Price: $132.26 | Your Price $105.81
Add To Cart
Parking assistance, camera, rear - For vehicles - With Keyless entry Part Number 31470242List Price: $849.44 | Your Price $679.55
Add To Cart
Parking assistance, camera, rear - For vehicles - Without Keyless entry Part Number 31470241List Price: $849.44 | Your Price $679.55
Add To Cart