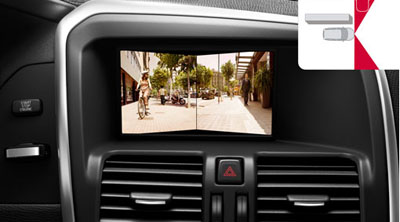 Parking assistance, camera, front blind view
Parking assistance camera, wide angle front increases the field of view and allows the driver to see `around corners`. The 7 inch large multimedia screen shows what the camera sees. The camera has a 180 degree field of view that allows the driver to see around corners past buildings and hedges, at for example junctions. This makes an excellent supplement to traffic mirrors at critical junctions and areas with many buildings and thick vegetation. The camera can be used together with the parking assistance camera, rear, see Parking assistance, camera, rear. The camera is discretely mounted in the grille and is activated by a button in the centre console.

Click here to view a PDF of the installation instructions.
Parking assistance, camera, front blind view Part Number 31339994List Price: $459.53 | Your Price $367.62
Add To Cart
Cable harness kit Part Number 31332421List Price: $87.68 | Your Price $70.14
Add To Cart
Camera button Part Number 31288201List Price: $10.35 | Your Price $8.28
Add To Cart
Application (Software) Part Number 31285245List Price: $32.38 | Your Price $25.90
Add To Cart
Bracket kit Part Number 9487189List Price: $41.17 | Your Price $32.94
Add To Cart