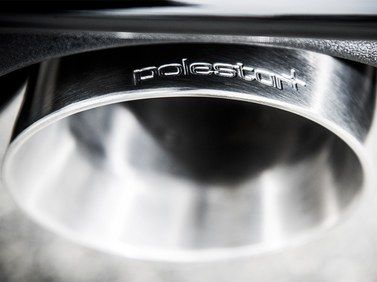 Polestar Performance Exhaust
A unique stainless steel exhaust system with double end pipes, which has been developed by Polestar in close collaboration with Volvo`s engine engineers. The system is designed to create a lower pressure and increased flow, which increases the performance while providing enhanced sound and a unique look. Polestar Performance Exhaust includes exhaust system, air filter and diffuser. Polestar Performance Parts meets all Volvo safety requirements. Not suitable for the S60L/S60 Inscription.

Click here to view a PDF of the installation instructions.
AUTO, T6 (B4204T9) FWD, Tech Matt Black Part Number 31454568List Price: $1,632.85 | Your Price $1,306.28
Add To Cart
AUTO, T5 (B4204T11) FWD, Black Stone Solid Part Number 31454564List Price: $1,632.85 | Your Price $1,306.28
Add To Cart
AUTO, T5 (B4204T11) FWD, Tech Matt Black Part Number 31454565List Price: $1,632.85 | Your Price $1,306.28
Add To Cart
Sensor, for cars without Parking assistance, rear Part Number 31341344List Price: $73.22 | Your Price $58.58
Add To Cart
AUTO, T6 AWD (B4204T9), Black Stone Solid Part Number 31664123List Price: $1,932.30 | Your Price $1,545.84
Add To Cart
AUTO, T6 AWD (B4204T9), Tech Matt Black Part Number 31664124List Price: $1,932.30 | Your Price $1,545.84
Add To Cart
AUTO, T6 (B4204T9) FWD, Black Stone Solid Part Number 31454567List Price: $1,632.85 | Your Price $1,306.28
Add To Cart