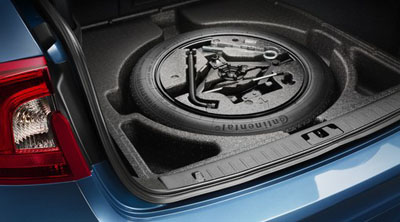 Spare wheel, storage under the floor
Store the Tempa spare wheel under the floor in the luggage compartment. An integrated solution that makes it easier to load the luggage compartment. When necessary the luggage compartment can be easily restored, see information in the installation instructions. The information kit consists of decals and information on how to apply them as well as a separate manual for the spare wheel kit.

Click here to view a PDF of the installation instructions.
Information kit Part Number 31664961List Price: $39.60 | Your Price $31.68
Add To Cart
Spare wheel, storage under the floor Part Number 31399083List Price: $249.08 | Your Price $199.26
Add To Cart
Spare wheel, Tempa spare Part Number 31317980List Price: $283.06 | Your Price $226.45
Add To Cart