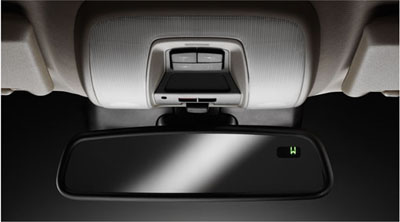 Mirror, rearview, autodimming with compass
The frameless interior rear-view mirror has a sleek and modern design that enhances and harmonises with the freshness of the interior. The rear-view mirror automatically dims distracting light from cars behind. A very practical accessory when driving in the dark. Installed by replacing the existing rear-view mirror with a new frameless one with automatic anti-dazzle. The compass in the mirror`s upper right-hand corner always shows the compass direction of the car`s front and makes for easier navigation.

Click here to view a PDF of the installation instructions.
Application (Software), compass Part Number 31260605List Price: $32.38 | Your Price $25.90
Add To Cart
Mirror, rearview, autodimming with compass Part Number 31402730List Price: $496.37 | Your Price $397.10
Add To Cart