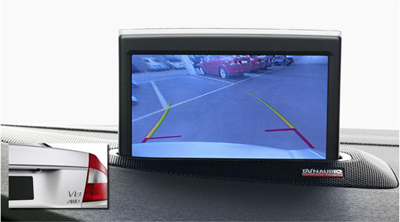 Parking assistance, camera, rear
Increase your field of vision behind the car when parking. A camera mounted in the trunk lid/tailgate gives you `eyes in the back of your head` when parallel parking. The RTI screen shows you what is behind the car. The camera, which is practically invisible in its location in the trunk lid, transmits the image digitally to a control module in the cargo compartment. The RTI screen shows the car`s bumper and a great deal of the area behind the car. Advanced image processing makes the image as true to life as possible. A mark at reference lines indicates the car`s approximate distance to objects behind the car. The towbar is visible in the display and the system serves as an aid when reversing toward a trailer. The system is activated when reverse gear is engaged, and is deactivated when the car is driven forward or by disengaging reverse gear.

Click here to view a PDF of the installation instructions.
Application (Software) Part Number 30765685List Price: $32.38 | Your Price $25.90
Add To Cart
Parking assistance, camera, rear Part Number 31428882List Price: $849.44 | Your Price $679.55
Add To Cart
Hole tool Part Number 9997241List Price: $29.37 | Your Price $23.50
Add To Cart
Primer Part Number 31395218List Price: $23.73 | Your Price $18.98
Add To Cart