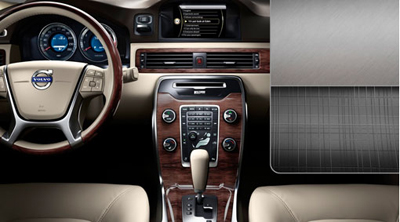 Decor panel - Door panel kit
Good-looking interior kits in exclusive materials that give the passenger compartment a luxurious impression. Cross Brushed Aluminum: Genuine cross brushed aluminum; Classic Wood: Gloss varnished real walnut root. Matches wood knob and wood steering wheel Classic Wood both exclusively and stylishly. Factory installed option MY08; Dark Fineline: Painted genuine aluminum; Modern Wood: Matt painted genuine walnut wood; Walnut Brown: Genuine walnut in matt painted wood. Matches wood knob and wooden steering wheel Walnut Brown in an exclusive and elegant way. Factory installed option from and including MY 09; Crossed Aluminum: Genuine aluminum.

Click here to view a PDF of the installation instructions.
Panel kit - Doors - Brushed Aluminum Part Number 31414971List Price: $245.00 | Your Price $196.00
Add To Cart
Panel kit - Doors - Dark Walnut, Vehicle Part Number 31401807List Price: $273.44 | Your Price $218.75
Add To Cart
Panel kit - Doors - Shimmer Graphite Part Number 31414977List Price: $179.04 | Your Price $143.23
Add To Cart
Panel kit, Doors - Cross Avenue Part Number 1286357List Price: $183.53 | Your Price $146.82
Add To Cart
Panel kit, Doors - Crossed Aluminum Part Number 1286233List Price: $297.69 | Your Price $238.15
Add To Cart
Panel kit, Doors - Feather Line Part Number 1286358List Price: $183.53 | Your Price $146.82
Add To Cart
Panel kit, Doors - Modern Wood Part Number 8632946List Price: $610.34 | Your Price $488.27
Add To Cart