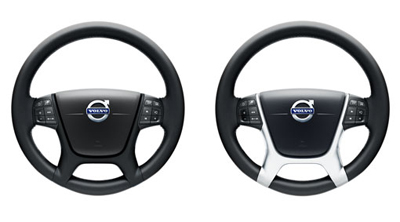 Steering wheel, leather
A new 4-spoked steering wheel generation, covered with high quality leather. The steering wheel has an exclusive `silk metal` panel available as an option. Available in two colours; Charcoal and Soft Beige. A factory option steering wheel also available as an accessory.

Click here to view a PDF of the installation instructions.
Charcoal, With decor Part Number 31390465List Price: $411.48 | Your Price $329.18
Add To Cart
Charcoal, Without d?cor Part Number 30756610List Price: $274.07 | Your Price $219.26
Add To Cart
Soft beige, With d?cor Part Number 31390466List Price: $411.48 | Your Price $329.18
Add To Cart
Soft Beige, Without d?cor Part Number 30756611List Price: $274.07 | Your Price $219.26
Add To Cart