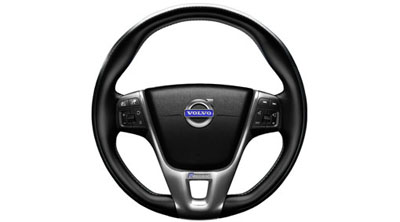 Steering wheel, sport, leather
A 3 spoked leather steering wheel with sporty design. The steering wheel has an anatomically shaped rim, with pronounced thumb supports and dynamic grip, as well as exclusive and comfy leather for optimum comfort. The steering wheel has a dynamic version and a decor panel in `silk metal` with R-design logo. The steering wheel is available in two versions with different coloured and shaped stitching. One with discreet stitching, matching the colour of the leather and one with contrasting, light coloured stitching.

Click here to view a PDF of the installation instructions.
Stitching colour: dark Part Number 31390469List Price: $441.72 | Your Price $353.38
Add To Cart
Stitching colour: light Part Number 31373333List Price: $419.19 | Your Price $335.35
Add To Cart