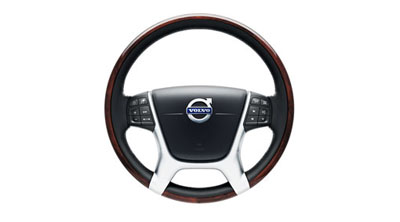 Steering wheel, wood
A 4-spoke steering wheel with genuine wood on the outside of the steering wheel rim. On the inside, the steering wheel is covered with an exclusive smooth leather, and it also has an exclusive decor panel in `silk metal`.

Click here to view a PDF of the installation instructions.
Dark Walnut/Charcoal Part Number 31401803List Price: $608.65 | Your Price $486.92
Add To Cart
Dark Walnut/Soft Beige Part Number 31401804List Price: $627.06 | Your Price $501.65
Add To Cart
Walnut Brown/Charcoal, 2X0X, 2X01, 2X02 Part Number 31390467List Price: $608.65 | Your Price $486.92
Add To Cart
Walnut Brown/Soft Beige, 2X1X Part Number 31390468List Price: $487.82 | Your Price $390.26
Add To Cart