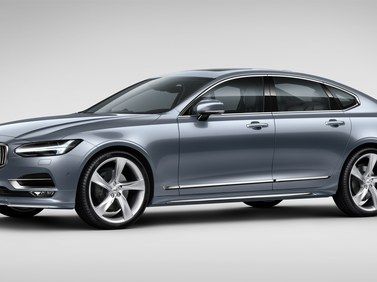 Exterior Styling Kit
The styling offer consists of a colour matched front spoiler and uniquely designed bottom sill, a boot lid colour matched spoiler, unique exhaust end pipes and a colour matched rear diffuser with chrome insert. This styling kit gives you the possibility to personalise your car even further. There are two options for cars with standard integrated end pipes. Either the end pipes can be replaced and the car`s black painted standard diffuser retained, or the end pipes can be replaced and the diffuser replaced with a colour matched diffuser. You can even get a sporty or a more exclusive look by choosing between two different decor trim themes. Choose between chrome or primed decor trim, which for optimum harmony is post-painted in the car`s exterior colour. Together with the unique 21 inch optional wheels that have been developed for use with this styling kit, an exclusive whole is created. The offer also makes the car look lower and more dynamic. The products are thoroughly tested to enhance the car`s already excellent driving characteristics.

Click here to view a PDF of the installation instructions.
Spoiler, front and Bottom sill - Primed Part Number 39846933List Price: $694.66 | Your Price $555.73
Add To Cart
Spoiler, front and Bottom sill - Black Stone, 019 Part Number 39846932List Price: $710.88 | Your Price $568.70
Add To Cart
Spoiler, front and Bottom sill - Magic Blue, 467 Part Number 39846936List Price: $710.88 | Your Price $568.70
Add To Cart
Spoiler, front and Bottom sill - Ice White, 614 Part Number 39846935List Price: $710.88 | Your Price $568.70
Add To Cart
Spoiler, front and Bottom sill - Bright Silver Metallic, 711 Part Number 39846942List Price: $710.88 | Your Price $568.70
Add To Cart
Spoiler, front and Bottom sill - Osmium Grey, 714 Part Number 39846943List Price: $710.88 | Your Price $568.70
Add To Cart
Spoiler, front and Bottom sill - Luminous Sand, 719 Part Number 39846945List Price: $710.88 | Your Price $568.70
Add To Cart
Spoiler, front and Bottom sill - Mussel Blue, 721 Part Number 39846947List Price: $710.88 | Your Price $568.70
Add To Cart
Decor trims - Chrome Part Number 31650008List Price: $344.33 | Your Price $275.46
Add To Cart
Spoiler, front and Bottom sill - Crystal White Pearl, 707 Part Number 39846941List Price: $710.88 | Your Price $568.70
Add To Cart
Spoiler, front and Bottom sill - Onyx Black, 717 Part Number 39846944List Price: $710.88 | Your Price $568.70
Add To Cart
Decor trims - Primed Part Number 31650019List Price: $216.63 | Your Price $173.30
Add To Cart