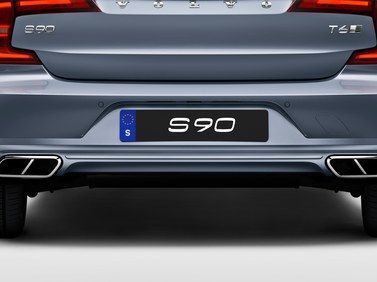 End pipes, double integrated and diffuser
The double end pipes give an impression of four end pipes. This gives the vehicle a more powerful look from the back and enhances the car`s sporty character. This kit contains both end pipes and diffuser with inset chrome strip. The diffuser is colour matched to the car`s exterior colours. An elegant inset chrome strip creates an impression that the end pipes and diffuser are combined together into one luxury unit.

Click here to view a PDF of the installation instructions.
Ice White, 614 Part Number 39847330List Price: $432.23 | Your Price $345.78
Add To Cart
Crystal White Pearl, 707 Part Number 39847339List Price: $432.23 | Your Price $345.78
Add To Cart
Onyx Black, 717 Part Number 39847323List Price: $432.23 | Your Price $345.78
Add To Cart
Pine Grey, 724 Part Number 39790176List Price: $432.23 | Your Price $345.78
Add To Cart
Connection pipe, for cars with one or two round end pipes - T5 (B4204T23, B4204T20), D5 (D4204T23), Excl. S90L, D4 (D4204T14), Excl. S90L, D3 (D4204T9) Part Number 31454731List Price: $149.12 | Your Price $119.30
Add To Cart
Rear exhaust system, for cars with one end pipe. D3 (D4204T9) Part Number 31478421List Price: $482.69 | Your Price $386.15
Add To Cart
Not painted Part Number 39847315List Price: $432.23 | Your Price $345.78
Add To Cart
Black Stone, 019 Part Number 39847307List Price: $432.23 | Your Price $345.78
Add To Cart
Magic Blue, 467 Part Number 39847313List Price: $432.23 | Your Price $345.78
Add To Cart
Electric Silver, 477 Part Number 39847317List Price: $432.23 | Your Price $345.78
Add To Cart
Savile Grey, 492 Part Number 39847333List Price: $432.23 | Your Price $345.78
Add To Cart
Ice White, 614 Part Number 39847336List Price: $432.23 | Your Price $345.78
Add To Cart
Bright Silver Metallic, 711 Part Number 39847319List Price: $432.23 | Your Price $345.78
Add To Cart
Osmium Grey, 714 Part Number 39847321List Price: $432.23 | Your Price $345.78
Add To Cart
Luminous Sand, 719 Part Number 39847325List Price: $432.23 | Your Price $345.78
Add To Cart
Mussel Blue, 721 Part Number 39847341List Price: $432.23 | Your Price $345.78
Add To Cart
Maple Brown, 722 Part Number 39847343List Price: $432.23 | Your Price $345.78
Add To Cart
Denim Blue, 723 Part Number 39790175List Price: $432.23 | Your Price $345.78
Add To Cart
Connection pipe, for cars with one or two round end pipes - T6 (B4204T27) Part Number 31454730List Price: $149.12 | Your Price $119.30
Add To Cart
Fastener clamp, for car with one tailpipe. D3 (D4204T9) Part Number 30742432List Price: $67.29 | Your Price $53.83
Add To Cart