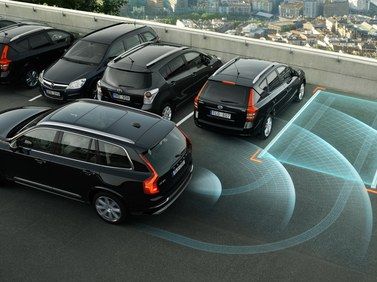 Parking assistance, pilot
Do not stress about tidy parking, let your car park itself - whether it be along the street or in a perpendicular parking space. With the push of a button `Parking assistance, pilot` reads the parking space using ultrasonic sensors. The system notifies you if the space is big enough. For parallel parking a space of only 1.2 times the length of the car is enough, which is a size that most drivers would not even consider trying to park in. Then just follow the instructions on the driver`s display. You control the vehicle`s gears, throttle and brakes and `Parking assistance, pilot` controls the steering until the vehicle is parked perfectly. You can also get assistance when leaving a tight parallel parking space. The car`s main display shows a graphical image of the car from above and the distance to any obstacle.

Click here to view a PDF of the installation instructions.
Parking assistance, pilot Part Number 32207367List Price: $405.78 | Your Price $324.62
Add To Cart
Wiring Part Number 31470819List Price: $151.06 | Your Price $120.85
Add To Cart
Lower air vent, centre, for cars with Momentum or Inscription Part Number 31449143List Price: $96.16 | Your Price $76.93
Add To Cart
Outer hatch, for cars with Momentum - Left Part Number 31425442List Price: $31.40 | Your Price $25.12
Add To Cart
Outer hatch, for cars with Momentum - Right Part Number 31425443List Price: $31.40 | Your Price $25.12
Add To Cart
Application (Software) Part Number 31664490List Price: $32.38 | Your Price $25.90
Add To Cart