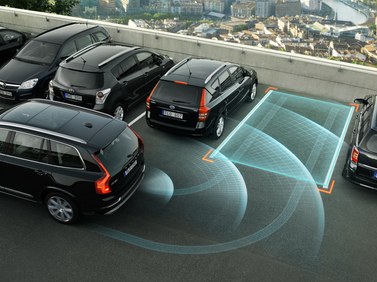 Parking assistance, pilot
Parking assistance, pilot is an excellent system that facilitates parallel parking and leaving a parallel parking space. The system is semi-automatic and can support the driver when the car is to be parked in a perpendicular parking space or when parallel parking, if the distances to objects in front and behind the car are sufficiently large. The car takes over steering fully, whilst the driver takes care of the gears, accelerator and brake. The system can also be used in manual mode with the same functions as Parking assistance, front and rear. When the driver requests help from Parking assistance, pilot to park in or leave a parallel parking space, the function is activated by a button on the car`s centre console. During parking, the car looks for a space to park in. For parallel parking, a space of only 1.2 times the length of the car is sufficient, which is a size that most drivers would not even consider trying to park in. When the parking space has been found the driver must stop the car in front of the space. It is then just a case of following the instructions given by the car, graphically and in text, when to change gear, accelerate or brake. Each time the car is 30 cm from an obstacle in front or behind, Parking assistance, pilot asks for a shift. When the car is parked, a confirmation is received and control is returned to the driver. When the driver wants to leave a parallel parking space and has enabled Parking assistance, pilot, the system scans the environment. The driver then receives a confirmation from parking assistance, pilot that it can assist the driver in leaving the parallel parking space. During the manoeuvre to leave the parking space the driver is instructed by Parking assistance, pilot and then regains full control when the car is out of the parallel parking space.

Click here to view a PDF of the installation instructions.
Parking assistance, pilot Part Number 31414261List Price: $413.76 | Your Price $331.01
Add To Cart
Cradle, right - (For R-design) Part Number 31383829List Price: $26.92 | Your Price $21.54
Add To Cart
Cradle, left - (For R-design) Part Number 31383828List Price: $26.92 | Your Price $21.54
Add To Cart
Wiring Part Number 31428828List Price: $126.07 | Your Price $100.86
Add To Cart
Application (Software) Part Number 31414744List Price: $32.38 | Your Price $25.90
Add To Cart