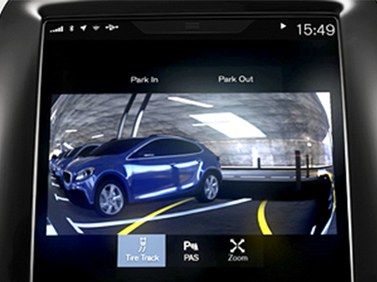 Parking assistance, camera, rear
Increase your rear field of view when parking. Thanks to a camera installed in the boot lid it is now possible to have `eyes in the back of your head` when parking. The camera, which is almost invisible in the boot lid, sends the image digitally to the car`s screen. The screen shows the car`s bumper and a large area of the area behind the car. Advanced image processing is carried out so that the image is as realistic as possible. Lines on the screen show how the car will turn depending on the steering angle. Dotted lines show the car`s exterior dimensions. The camera can zoom in close to the car. The towbar is then visible on the screen and the system assists when reversing to a trailer. The system is activated when reverse gear is engaged and is deactivated by disengaging reverse gear.

Click here to view a PDF of the installation instructions.
Control module For Chassis # 29406- Part Number 31471889List Price: $555.85 | Your Price $444.68
Add To Cart
Control module holder - Excl. Twin Engine Part Number 31439006List Price: $399.00 | Your Price $319.20
Add To Cart
Application (Software) Part Number 31439187List Price: $35.00 | Your Price $28.00
Add To Cart
Control module For Chassis # Ch -29405 Part Number 31471168List Price: $546.56 | Your Price $437.25
Add To Cart
Parking assistance, camera, rear Part Number 31414261List Price: $413.76 | Your Price $331.01
Add To Cart