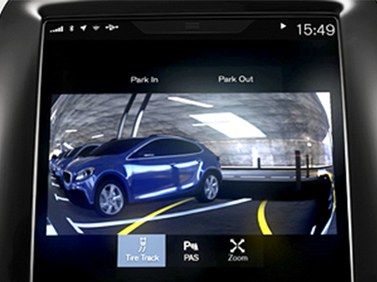 Parking assistance, camera, rear
With the Rear Park Assist Camera, you can increase the field of vision behind the car and have the option of `eyes in the back of your head` while parking. The camera, which is mounted almost invisibly, sends the image digitally to the cars screen. The screen shows the cars bumper and a large part of the area behind the car. Advanced image processing is carried out so that the image is as realistic as possible. Lines on the screen show the car`s outer dimensions and how the car will turn depending on steering wheel angle. The camera can zoom in close to the car. The towbar is then visible on the screen and the system assists when backing up to a trailer. The system is activated and deactivated via the car`s display or by engaging reverse gear.

Click here to view a PDF of the installation instructions.
Application (software), preparatory installation Part Number 32207903List Price: $555.85 | Your Price $444.68
Add To Cart
Application (software), camera installation Part Number 31454888List Price: $546.56 | Your Price $437.25
Add To Cart
Parking assistance, camera, rear Part Number 31650146List Price: $405.78 | Your Price $324.62
Add To Cart